Whatsapp is one of the most popular messaging and video calling services, and it is used by many individuals for both commercial and personal purposes. Many official discussions on Whatsapp require the use of a Record WhatsApp Video Call for later review, or people seek to capture moments such as sharing the first look of a kid with parents who live in another country. Record WhatsApp Video Call On Android is the greatest solution for saving any critical moment, discussion, or thought. And is it possible to record whatsapp video call? yes!
In this post, we'll show you how to record whatsapp video call with audio automatically using three different techniques, including some extremely amazing WhatsApp video call recording apps and thorough instructions on how to Record WhatsApp Video Call On Android on your iPhone, Android, PC, or Mac. If you work from home and require a record of an essential meeting, you might find yourself in a situation where you need to generate a recording of the call you're on. We have a wonderful guide on how to record whatsapp video call on android, as well as a guide on how to record Skype calls, but in this post, we'll show you how to Record WhatsApp Video Call On Android.
How To Record WhatsApp Video Call On Andriod And Ios
Here are the following steps on how to record WhatsApp video calls?
1. Record WhatsApp Video Call With Audio on iPhone
Start a WhatsApp video call if you have an iPhone and record whatsapp video call iphone firstly Open the control center by swiping up from the bottom. To begin recording, select the screen recording option here. This is the simplest method for iPhone users to begin recording WhatsApp video calls on their devices. If you utilize iOS 11, 12, or later, you will be grateful to Apple for saving you time and simplifying your life. Why? Because your phone now has screen recording capabilities! All of this is possible without jailbreaking your iPhone. Though there are third-party apps for record whatsapp video call with audio on iPhone, we'll go with a more straightforward method.
Step 1: Visit Settings > Control Center > Customize Controls to reach the page where you have to tap '+' for recording.
Step 2: Swipe up from the bottom of the screen to reach Control Center.
Step 3: Here, you have to choose the Record icon + Microphone (to record audio). Settings are now ready.
Step 4: visit your WhatsApp, choose the one you wish to call and the recording will occur on its own.
Step 5: During the time or after ending the call, stop the process by clicking the red bar at the top. The pop-up will ask 'Stop Screen recording'. Here, choose 'Stop'.
2. Record WhatsApp Video Call With Sound on Android
WhatsApp video calls can be readily recorded if you have one of the latest Android devices. This method, however, only works on certain smartphones because it requires your phone's built-in screen recording feature. So, what should you do if your smartphone lacks this feature? You may still record it by going to the Google Play Store and downloading third-party video call recorder apps. There are numerous screen recorder programs to choose from. You might be disappointed to learn that Android lacks an in-built screen recorder that can be used to save screen record whatsapp video call. In this instance, you'll need the assistance of a third-party app.
We are highlighting 3 of the best WhatsApp video call recorders to ease your situation.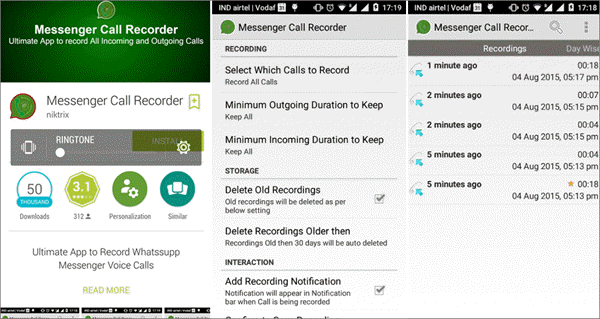 Another good alternative for recording WhatsApp calls is Messenger Call Recorder. It resembles Real Call Recorder in many ways. However, as compared to the previous program, this one captures WhatsApp calls in high definition sound quality while using less power and phone capacity. You can select a preference for the minimum time of WhatsApp calls to record in order to avoid making unwanted recordings. You can simply discover a recording you want in the record list by sorting by time and date, and you may flag any recording as your favorite.
The process to record WhatsApp calls with this recorder:
Step 1. Download the app through the link above.
Step 2. After you install the app on your phone, you will be asked to go into your phone settings to enable the Messenger Call Recorder. Tap "Enable" and you will be directed to Settings to turn on the recorder.
Step 3. Then this app will go on in the background and whenever you make WhatsApp calling the app will record the entire conversation for you.
Step 4. If you want to share the recording, you can just long tap on that recording and tap the Share button. Then just simply select a sharing way of your choice.

To use the app successfully, follow the process below.
Step 1: Download from the Google Play Store, to begin with.
Step 2: Reach to the widget screen and visit its Settings. Here, make sure you enable the Audio, or else the video will record without any sound. All you have to do now is make the WhatsApp video call, tap on the Record icon and let the video gets recorded. Once the call ends, you can tap again on the same icon which will ultimately stop the recording.
Here are the following steps that depict the process of using a DU recorder.
Step 1: Google Play Store is where you can get the app.
Step 2: A floating window will appear on the phone screen whose options you have to choose before or during the call.
Step 3: Make the WhatsApp video call and tap on the record button from this window. Your call will automatically record. Tap it close once the video call is done.
Simple as that! Note: As the app is of Chinese's origin, it may not be available in India, because the Indian government has banned some of the Chinese apps
To Record The Conclusion
Record your WhatsApp video call with audio quickly and effortlessly with the methods described above and document them for your future reference. Interestingly, you do not need a separate WhatsApp video call recorder if you are using iOS 11, 12, or more. But in the case of Android, you do need another app. No worries, apps like DU Recorder and AZ recorder are fruitful in the completion of your need. Enjoy the recording!